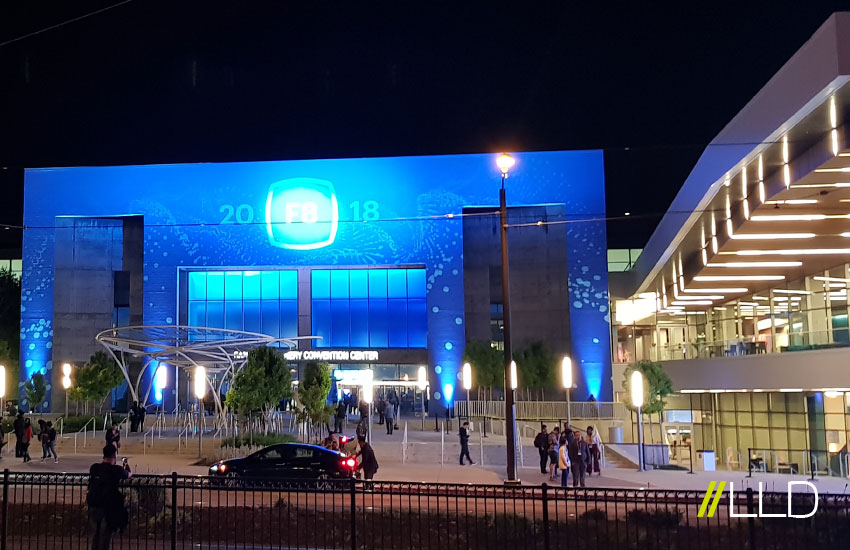 F8 2018 - Facebook Developer Conference, San Jose, CA
02/05/2018
F8 is the Facebook's annual developer conference intended for developers and entrepreneurs to explore what's next in technology and learn more about new products and innovations Facebook is creating to bring the world closer together. This year, the conference was hosted in San Jose, CA at the McEnery Convention Center on May 1-2, 2018.

McEnery Convention Center, San Jose, CA
At the opening keynote, Mark Zuckerberg claimed that Facebook is fundamentally a force for good, even though it is also flawed. He admitted that he did not invest so much in safety and security in the past years and that by the end of this year there will be 25000 people working on security and content review at Facebook.

Opening Keynote
"There's no guarantee that we get this right, this is hard stuff. We will make mistakes and they will have consequences and we will need to fix them," Zuckerberg added. "But what I can guarantee is that if we don't work on this, the world isn't moving in this direction by itself. So that is what we are all here to do."

Opening Keynote
Zuckerburg announced the launch of new Facebook updates and releases very soon. Below are some of the most interesting technologies to be available soon for all Facebook users:

Facebook 's dating app
This app is basically the new Tinder. It allows users to make profile visible to non-friends while maintaining their profile private. Using profile data, this app allows people to privately look for new friends of the same interest or possibly find a date in a safe and private approach.


Clearing the Facebook history
Facebook is building a new privacy tool where you can clear all your Facebook browsing data in a single click. However, Zuckerburg stated that this will make your profile less personalized and is not so likely because the news feed after all is built to tailor personalized data for each user. However, users will have the freedom to access this option.


Instagram video chat and anti-bullying
Zuckerburg announced that Instagram will be launching a new video chat option and that a new filter will be applied to the platform to protect users from bullying comments. He also added that instagram will have an advanced explore feature very soon.


WhatsApp group video call
Zuckerburg said that video call is one of the most popular features on WhatsApp already and that people all around the world are making more than 2 billion minutes of voice and video calls on WhatsApp alone. He announced that he will be bringing a new group video call feature to WhatsApp very soon.


Simplifying Messenger and Messenger Translation
Zuckerburg announced that Facebook will be redesigning messenger for a cleaner, simpler and faster experience. He mentioned that translation of chats will be integrated into the messenger platform to make it easier to chat with anyone around the world with any language you want without having to worry about translation.


VR memories and 3D photos
Facebook will be releasing a new interesting technology for bringing 3D illustration out of old 2D photos. You can now easily turn memories into VR. Facebook will use computer vision to fill in the gaps of old photos and recreate a VR model out of it. A cool new feature by Facebook to re-live old moments in the present.


Oculus Go
Zuckerburg announced the release of the new Oculus Go for $199. In a kind gesture, everyone at F8 got a free Oculus Go!



Zuckerberg closed the keynote by insisting on doing whatever it is possible to make the world a better place and bring it closer together. "So if you believe like I do that giving people a voice is important, that building relationships is important, that creating a sense of community is important and that doing the hard work of trying to bring the world closer together is important. Then I say this, we will keep building."
To know more about the rest of features that Facebook will be releasing soon watch the full keynote here:

https://www.facebook.com/zuck/videos/10104900382520941/
Our team at LeLaboDigital applied for attending the conference and received an invitation to join along with applicants from all around the world.
I personally also had the chance and pleasure to participate in the Hackathon and proudly represent LeLaboDigital among the best developers worldwide. It was more than a lifetime experience and more than just an event.
Rami Zebian
Software Engineer, LeLaboDigital
[email protected]